Princesses Corset Fashion
Princesses Corset Fashion:
This is Frozen category game, created and develope by Bitent Media
Features
The main characters are Moana, Merida, Ariel Elsa and Anna characters
There are many steps to enjoy this game with the main Frozen character
A unique activity
Easy-to-follow on-screen instructions
Platforms
This game is a web browser game (desktop and mobile).
Categorization
Frozen games »Hair Games » Hair games and Dress Up games
more information about Princesses Corset Fashion game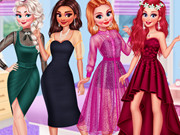 Play new game
Princesses Corset Fashion
for free online at our website Elsagames.org. As other games on our website, you can play this game in your browser, your mobile and enjoy it for free as well. In this game, you will meet again four princesses such as Moana, Merida, Ariel Elsa and Anna. Today, they want to change their look. You will use your mouse and follow the instructions of this game. In the first game, you must do makeover with the beauty products such as foundation, moiturizer, face mask, compact powder, Blusher, highlighter, cleansing milk, Mascara, Palette, Eye makeup remover, Eyebrow pencil, Lipstick, Lip gloss. After that, you will choose the nice outfits for them such as bracelet, necklace, earring,..Please don't forget to change their hair style as well. This game is simple but it is very funny and interesting. I hope that you will like this game and come back here to play more game. You can recommend your friends, your relatives to come here. You can enjoy Horse games, Unicorn games on our website as well. Besides this game, you can enjoy other games with other categories such as Descendants games, Io Games, Baby Games, Sailor Moon Games, Elsa Games,..in our game systems. If you have any idea or question about our games, please let us know. We are ready to answer them at every time.
How to play Princesses Corset Fashion:
Play this game with your mouse
Help Elsa and her friends get new look
Make them happy.
Enjoy this game