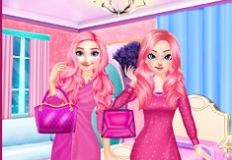 Play new game
Princess Pink Of Life
for free online at our website Elsagames.org. As other games on our website, you can play this game in your browser, your mobile and enjoy it for free as well. In this game, you will get an opportunity to meet again the both Frozen characters Anna and Elsa. Today, they want to get the pink fashion style. Now, you use your mouse and follow the instructions in game and help them to have the gorgeous look. Very simple to play this game, you use your mouse and click all the necessary items.
In the first game, you must help Anna to do the makeover with the beauty products. You use eyeshadow to make her eyes become more beautiful. Then you will choose color for her eyes, you will continue to choose color for lipstick. You will take mascara to make eyelashes more beautiful. Finally, you will make the footer with the pen. When everything for Anna is done, you will go to next the page of game and help Elsa to do makeover as Princess Anna.
You will continue to choose the pink outfits for Anna and Elsa. You will take new hair style, dress, hand bag and some thing related to pink color. After that, you will decorate room for them such as bed, sofa, window,...This game is simple but it is very funny and interesting. I hope that you will like this game and come back here to play more game. Have fun playing this game called PrincessPink Of Life!