Fashion Icons Challenge:
Now, you will enjoy new game called Fashion Icons Challenge for free online at our website Elsagames.org. As other games on our website, you can play this game in your browser, your mobile and enjoy it for free as well. Here, you will meet again four princess Anna, Elsa, Ariel and Belle. They are the good friends as well. Now, you will help them to change look for Elsa who is a real fashion icon. You will use your mouse and click all the items as you like.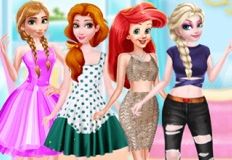 You know that princesses Elsa and Anna from Frozen Games, princess Ariel from Little Mermaid Games and of course beautiful Belle from beauty and the Beast games. Each princess has a different personality and characteristics. You will help Anna, Belle and Ariel challenge Elsa. You will start to help them as one by one. Please choose the nice hairstyle, clothes with dress or top and skirt. You will continue to choose necklace to make accessories. Finally, you will choose a pair of shoes. This is a fashion game and designed for ladies and girls. This game is simple but it is very funny and interesting. I hope that you will like this game and come back here to play more game. You can recommend your friends, your relative to come here and enjoy for free in our site or in our game system. Have fun!
How to play Fashion Icons Challenge:
Play this game with your mouse Help Anna, Belle and Ariel to challenge Elsa. Make them happy. Enjoy this game